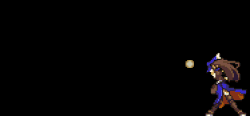 Acerbatus is a Glyph in the Castlevania series. It calls forth the power of spite.
Description
Acerbatus is a Thunder and Darkness glyph that can inflict Curse. It fires a large, brownish orb of energy.
It is one of Albus's signature glyphs and can be absorbed from him by Shanoa in Castlevania: Order of Ecclesia.
It is available to Shanoa in the DLC chapter Lord of Flies in Castlevania: Harmony of Despair.
Item Data
Animations
Trivia
Community content is available under
CC-BY-SA
unless otherwise noted.