Arabaki is an enemy in Castlevania: Harmony of Dissonance.
Origins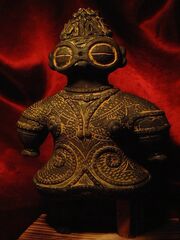 The Arahabaki is an obscure Shinto deity whose prominence in pop culture goes back to an infamous forgery, the 1970s text Tsugaru Soto Sangunshi, which claimed that the Tohoku region was once a scientifically advanced utopia. While supposed to pass as a lost medieval chronicle, the text contained references to modern scientific terms, as well as contemporary conspiracy theories and fringe pseudoscience. It also inexplicably linked a minor local deity, a type of marebito (visiting god), to the famous ceramic Jomon period figures known as dogū.
While these claims have no real merit, they inspired many works of fiction, and portraying Arahabaki as a dogū is relatively common in Japanese pop culture.
Description
Arabaki's form and movements are similar to those of a Schmoo, although its appearance and origins are somewhat different. Like the Schmoo, the Arabaki dives in from the side of the screen to attack; however, it is only capable of limited zigzag movement. It seems to have no preference for what type of area it inhabits.
Enemy Data
| No. | Name | JPN | Lv. | HP |
| --- | --- | --- | --- | --- |
| 50 | Arabaki | Arahabaki | 20 | 13 |
Gallery
External links
Community content is available under
CC-BY-SA
unless otherwise noted.