Roblox: DeepWoken - The Loop
Play Sound
Not to be confused with Tear of Blood.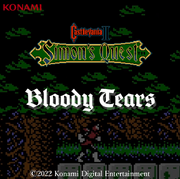 Bloody Tears is a music theme originally composed by Kenichi Matsubara for Castlevania II: Simon's Quest. It is the background theme used in all external areas (not towns) during daytime.
The track has since been arranged multiple times throughout the course of the Castlevania series and has become one of its most popular tracks to date.
Appearances
Song Data: Bloody Tears
Image
Track No. / Name (Japanese Name)
Game / Soundtrack
Composer
Usage
Notes / Links
12 - 33. Bloody Tears
Castlevania II: Simon's Quest /  Akumajō Dracula Famicom Best

Kenichi Matsubara 
Daytime background theme
Links: YouTube (FDS)

40. Bloody Tears
Haunted Castle /  Konami Game Music Collection Vol. 1

Kenichi Matsubara 
Banquet Room (Stage 3)
Links: YouTube

3. Bloody Tears
 /  Perfect Selection Dracula

Konami Kukeiha Club (composer)


Nazo² Project (arranger) 

Notes: Rap version
Links: YouTube

7. Bloody Tears
 /  Perfect Selection Dracula ~New Classic~

Jun Irie, Konami Symphonic Ensemble, Nazo² Project (arrangers) 
Notes: Orchestral version
Links: YouTube

19 (CD 1). Bloody Tears
Super Castlevania IV /  Akumajō Dracula Best 2


Masanori Adachi

,

Sotaro Tojima

(arrangers) 
Clock Tower
Links: YouTube

9 (CD 1), 41 (CD 2). Bloody Tears
Castlevania Chronicles /  Castlevania Chronicle: Akumajō Dracula Original Soundtrack


Shin Chan

, Jigokuguruma Nakamura,

Devi Kobayashi

, Sota Fujimori (arrangers) 
Red-Brick Cathedral
Links: YouTube (YM2151)


YouTube (CM-64)
YouTube (SC-55)
Youtube (Arranged)
Youtube (RMX)


6 (CD 1). Bloody Tears
Castlevania: Rondo of Blood /  Akumajō Dracula X

Metal Yuhki (arranger) 
Stage 3
Links: Youtube (PCE)

9 (CD 2). Bloody Tears
Castlevania: Bloodlines /  Akumajō Dracula X

Michiru Yamane (arranger) 
Bonus track
Links: Youtube

3. Simon's Quest (FC/DISC)ドラキュラ2~呪いの封印~
Castlevania II: Simon's Quest /  Dracula ~Music Collection~

Konami Kukeiha Club 
Notes: Echo version from the Japanese version - Medley with The Silence of the Daylight, Dwelling of Doom, Monster Dance, Last Boss, Game Over and A Requiem
Links: YouTube

8. Super Castlevania IV (SFC) 悪魔城ドラキュラ
Super Castlevania IV /  Dracula ~Music Collection~

Konami Kukeiha Club 
Notes: Echo version - Medley with Dracula's Theme and Theme of Simon Belmont
Links: YouTube

15. Haunted Castle (AC) 悪魔城ドラキュラ
Haunted Castle /  Dracula Music Collection

Kenichi Matsubara 
Notes: Medley with Reviving Dracula, Wedding March of Tragedy, Cross on the Breast, Can't Wait Until the Night and A Lullaby Sent to the Devils
Links: YouTube

2. Bloody Tears
 /  Perfect Selection Dracula Battle

Konami Kukeiha Club (composer)


Naoto Shibata (arranger) 

Notes: Rock/metal version
Links: YouTube

26 (CD 2). Bloody Tears
Castlevania: Dawn of Sorrow /  Castlevania: Aria of Sorrow & Castlevania: Dawn of Sorrow Original Soundtrack

Masahiko Kimura (arranger) 
The Dark Chapel, only during Julius Mode
Links: YouTube (DS)

4. Bloody Tears
Castlevania II: Simon's Quest /  Castlevania 20th Anniversary Deluxe Music Collection

Kenichi Matsubara 
Notes: Echo version from the US version
Links: YouTube

37. Bloody Tears
Haunted Castle /  Castlevania 20th Anniversary Deluxe Music Collection

Kenichi Matsubara 
Notes: Echo version
Links: YouTube

7. Bloody Tears
Castlevania: The Dracula X Chronicles /  Castlevania: The Dracula X Chronicles Original Soundtrack

Nazo² Project 
Stage 3
Links: YouTube

5. Bloody Tears
Castlevania Judgment /  Castlevania Judgment Original Soundtrack

Konami Kukeiha Club (composer)


Yasushi Asada (arranger) 

Carmilla's theme; plays during a fight with or against her
Links: YouTube

33. Chi no Namida -Bloody Tears- ~Dracula Battle Spiral Staircase Stage~
Pachislot Akumajō Dracula /  Pachislot Akumajō Dracula Original Soundtrack

Konami Kukeiha Club (composer)


Akihiro Honda (arranger) 

Dracula Battle Spiral Staircase Stage
Notes: Recycled directly from Castlevania: The Dracula X Chronicles
Links: YouTube

42. Bloody Tears ~Dracula Battle Spiral Staircase Stage~
Pachislot Akumajō Dracula /  Pachislot Akumajō Dracula Original Soundtrack

Kenichi Matsubara 
Notes: Recycled directly from Castlevania II: Simon's Quest
Links: YouTube

10. Bloody Tears
Pachislot Akumajō Dracula II /  Pachislot Akumajō Dracula II Original Soundtrack

Konami Kukeiha Club (composer)


Akihiro Honda (arranger) 

Notes: Recycled directly from Castlevania: The Dracula X Chronicles
Links: YouTube

35. Bloody Tears
Pachislot Akumajō Dracula II /  Pachislot Akumajō Dracula II Original Soundtrack

Kenichi Matsubara 
Notes: Recycled directly from Castlevania II: Simon's Quest
Links: YouTube

2. Bloody Tears
 /  Akumajō Dracula Tribute Vol. 1

Konami Kukeiha Club (composer)


TECHNOuchi (arranger) 

Links: YouTube

28. Bloody Tears ~Dracula Battle 4~
Pachislot Akumajō Dracula III /  Pachislot Akumajō Dracula III Original Soundtrack

Notes: Recycled directly from Akumajō Dracula: The Arcade
Links: YouTube

39. Bloody Tears ~Dracula Battle 11 (Premium)~
Pachislot Akumajō Dracula III /  Pachislot Akumajō Dracula III Original Soundtrack

Kenichi Matsubara 
Notes: Recycled directly from Castlevania II: Simon's Quest

4. Bloody Tears
Pachislot Akumajō Dracula: Lords of Shadow /  Pachislot Akumajō Dracula: Lords of Shadow Original Soundtrack

KPE STUDIO

Links: YouTube

Bloody Tears
Castlevania: Valiant Guardian
Castlevania Feature
Bloody Tears / Monster Dance
Super Smash Bros. Ultimate /  Super Smash Bros. Ultimate Original Soundtrack

Michiko Naruke (arranger) 
Notes: Medley made of "Bloody Tears" and "Monster Dance"
Links: YouTube

Castlevania II: Simon's Quest (Family Computer ver.) - Bloody Tears
Castlevania II: Simon's Quest (Famicom) /  Castlevania 35th Anniversary NFT

Kenichi Matsubara 
Daytime background theme
Links: OpenSea

Castlevania: Simon's Quest (Nintendo Entertainment System ver.) - Bloody Tears
Castlevania II: Simon's Quest (NES) /  Castlevania 35th Anniversary NFT

Kenichi Matsubara 
Daytime background theme
Links: OpenSea

Other usages
Additionally, the track has been used in the following non-Castlevania games:
Appearances of the concept throughout the series
Gallery
Videos
Trivia
References
External links