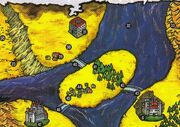 Bodley Mansion (バドリーの館, Badorī no Yakata?) is a location in Castlevania II: Simon's Quest. It is the fourth mansion in the game.
To access this mansion, Simon has to use the Red Crystal at the base of Deborah Cliff. The second half of the main world is accessible through here. It resides in the middle part of the Wicked Ditch. Heading left (east) takes one toward the Uta Lower Road, and will eventually loop around back to Camilla Cemetery, while heading right (south) will take one toward the town of Fetra, which leads toward Dracula's Castle, among other places.
Dracula's Nail is housed in this mansion, which allows the player to whip and break certain blocks the same way as those the Holy Water does.
Enemy Data
Edit
Enemy Data: Bodley Mansion
Image

Name

- Game
Description
Statistics
Items
Location
'
HP: 2/4/8/16/32

Drop: Half Heart

Berkeley Mansion / Rover Mansion / Brahm's Mansion / Bodley Mansion / Laruba Mansion

'
HP: 2/4/8/16/32

Drop: Half Heart

Berkeley Mansion / Rover Mansion / Brahm's Mansion / Bodley Mansion / Laruba Mansion

'
HP: 2/4/8

Drop: Small Heart

Berkeley Mansion, Bodley Mansion

External links
Edit