| | |
| --- | --- |
| | This article is about a game or media that's still to be released. As such, some of the information might be inaccurate or likely to change. Contributors should refrain from putting rumors and speculation on this article. |
Warning! This article contains spoilers. Proceed at your own risk.
"Blood is family. Blood is power. Blood is everything."
— Halloween 2013 trailer for Lords of Shadow 2.
Castlevania: Lords of Shadow 2 is a game developed by Konami and MercurySteam for the Playstation 3, the Xbox 360 and Microsoft Windows. It is the sequel to Castlevania: Lords of Shadow and Castlevania: Mirror of Fate. [1]. It will be released on February 27, 2014.
The games focuses on what happened to Gabriel Belmont, now known as Dracula, after the events of Lords of Shadow and Mirror of Fate. It is the last game developed by MercurySteam, and the conclusion to the Lords of Shadow Saga[2].
Plot
After centuries of sleep and nothingness, Dracula returns, weakened. The Prince of Darkness burns to reclaim his ancient powers, and desires to get rid of his immortality. Zobek, worried by Satan's imminent return, asks his old friend to help him stop the Devil, at the price of Gabriel's immortality. Soon, it will be over.
Characters
Casting
Development
On May 31, 2012 during Konami's Pre E3 2012 Press Conference the first trailer for Castlevania Lords of Shadow 2 premiered. Featuring an older Gabriel who displays full ownership of his vampiric powers.
On December 7, 2012, during the Video Games Award, another trailer was broadcasted, giving more information about the story and gameplay.
On June 6, 2013, during Konami's Pre E3 2013 Conference, a new trailer was shown, showing gameplay and story. Zobek was confirmed to be part of the game.
On August 21, 2013, at Cologne's GamesCon, Victor Belmont was revealed to be the new Belmont character. A gameplay trailer focusing on the Void Sword and gameplay was also shown.
Gameplay
Players will take control of Lords of Shadow's protagonist Gabriel Belmont, who now has taken on the moniker of "Dracul", as the game's main protagonist. He will traverse both his own castle and a modern day city, while battling both the Brotherhood of Light and the forces of Satan.
The combat system is based on the previous game. Gabriel's Combat Cross has been replaced with a new weapon called the "Blood Whip". However, combos are still strung together with strong direct attacks, and lighter attacks with more range. [3] Dracula can collect blood from the enemies he fights. He can channel int to "Void" and "Chaos". When the former is activated, Dracula's weapon will switch to the Void Sword. This weapon allows him to regain health when enemies are struck with it. Chaos switches Dracula's weapon to a pair of claws that will help him break through enemy defenses. [4] This system is highly reminiscent of how Light Magic and Shadow Magic were put to use in the previous Lords of Shadow.
Other powers Dracula at his disposal are controlling enemies and turn into mist in order to get past unseen or enter certain areas. [4]
Information
Warning: This section contains information and trivia known before the release of the game: it should be deleted once the game is released. Confirmed elements should be removed too. No rumors or fan speculation should be added here.
Through Twitter, producer David Cox has answered some questions and given confirmation of some details of the game.
Although Alucard uses the whip Dark Pain in Mirror of Fate, he will use a "very special sword" in Lords of Shadow 2.
The score will be completely new this time around, combining orchestra music with electronic music.
Gabriel only refers to himself as The Dragon, Dracul. He will come to be known as Dracula by others.
There are no more chapters, replaced with seamless gameplay.
Dracula's Tomb Premium Edition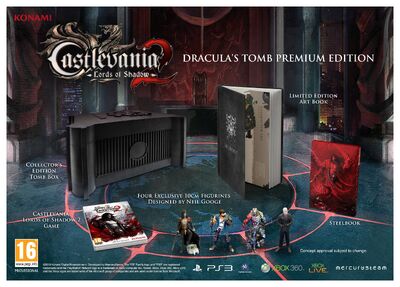 The premium edition for European version Lords of Shadow 2. It contains the game, Tomb box, Steelbook, A4 100 page hardback artbook and 4 miniature figurines (Characters: Dracula, Zobek, Victor Belmont, The Lieutenant).

Trivia
This game is the first to allow the player to control Dracula as the primary character (as Dracula was playable in Castlevania: Judgment), rather than his reincarnated form, another hero, or an alternate version of him.

It is also the first game to reverse the typical order of Castlevania games; i.e. the player starts in Dracula's throne room.
Also, unlike the classic Castlevania series, the Lords of Shadow timeline has a very intentional end, which will take place in this game.


Even though the level based structure is no longer being used, the Travel Book from the first two games still makes an appearance.

The book appears when the game is first started, being read by Dracula. Once the game begins, it appears again, in a secret chamber behind Dracula's throne.
Videos
Notes
See Also
Related Products
External Links
Community content is available under
CC-BY-SA
unless otherwise noted.