Curly is an enemy in Castlevania: Aria of Sorrow. She is a demon who uses all four of her arms to smash things.
Origins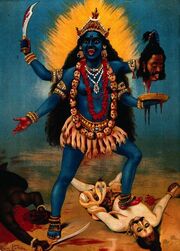 Kālī is the Hindu goddess associated with empowerment, or shakti. She is the fierce aspect of the goddess Durga. Her name comes from kāla, which means "black", "time", "death", "lord of death": Shiva. Since Shiva is called Kāla, "the eternal time", the name of Kālī, his consort, also means "time" or "death" (as in "time has come"). Hence, Kāli is the goddess of time, change, power and destruction.
Although sometimes presented as dark and violent, her earliest incarnation as a figure of annihilation of evil forces still has some influence. Various Shākta Hindu cosmologies, as well as Shākta tantric beliefs, worship her as the ultimate reality or "Brahman". Comparatively, recent devotional movements largely conceive Kāli as a benevolent mother goddess. She is often portrayed standing or dancing on her husband, the god Shiva, who lies prostrate beneath her.
Description
A stronger version of Durga. Curly advances a short distance and stops to stab rapidly with her swords. Her soul grants Soma the Curly Form ability, which transforms him into a gigantic version of Curly that rushes forward, slashing and destroying anything on her path. It is one of the souls that can allow access past the waterfall in the Underground Reservoir to enter the Forbidden Area.
Enemy Data
| No. | Name | JPN | HP | MP | EXP |
| --- | --- | --- | --- | --- | --- |
| 44 | Curly | Kali | 90 | 80 | 67 |
| | |
| --- | --- |
| Description | "A demon that uses all four of its arms to smash things." |
Item Data
Item Data: Curly
Image

Name

- Game
Description
Type / Users
Attributes / Consume
Statistics / Sell
Found
Notes
Eerie-looking necklace.
Goods
Soma 
DEF +3, LCK -1
Sell: $333 
Common Drop: Curly, Devil

Necklace adorned with a fire symbol.
Goods
Soma 
DEF +2, INT +1
Sell: $300 
Rare Drop: Curly

Transforms into a demon that rushes at enemies.
Guardian Soul (Form)
Soma 
Attrib: Sword
Consume: 30 MP/sec 
50 AP

Drop: Curly

Gallery
Screenshots
See also
Community content is available under
CC-BY-SA
unless otherwise noted.