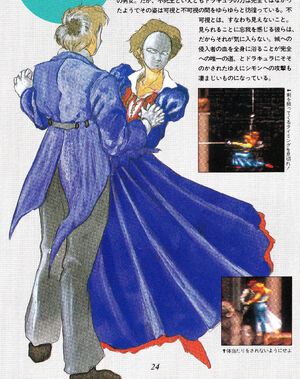 Dead Nobles are a type of enemies in the Castlevania series. These aristocrats, which can be either ghosts or undead corpses, can float about, disappear and reappear, dance together, and even wield rapiers.
Description
A host of dead nobles appeared in Super Castlevania IV in the elegant halls of the castle. The dead nobleman floats toward Simon in a horizontal line and may disappear, only to reappear from the other direction and make another pass at him. The dead noblewoman will move about in a circular pattern in the air, often staying out of reach of the whip, and then swoop down for an attack. In a later section, these ghosts are found dancing together, they spin around each other while moving up and down and back and forth through the floors and walls. At the end of the stage is a boss version of these dancers, dubbed the Dancing Spectres, and in English called Paula Abghoul and Fred Askare. These periodically charge toward Simon, each wielding a rapier, one facing forward and one facing upward.
The dancing version of these ghosts reappeared in many games, called Ghost Dancers, starting with Aria of Sorrow. Rapier wielding male nobles (without their dancing partner) reappeared in Curse of Darkness, called the Dead Fencer, Dead Baron and Duke Mirage.
Other non-ghost nobles have appeared in the series. The Princess of Moss appears as the boss of the Versailles Palace level in Bloodlines, resembling a 18th century era high aristocrat (a princess, that is), who later transforms into a monstrous giant moth. The Headhunter from Aria of Sorrow resembles another high female aristocrat, until her head is cut off, making her switch it for another one.
Enemy Data
Enemy Data: Dead Nobles
Image
Name - Game
Description
Statistics
Items
Location
'
HP: 16
Exp: 100
Atk: 3

6. The Halls

'
HP: 48
Exp: 100
Atk: 3

6. The Halls

'
HP: 48
Exp: 100
Atk: 3

6. The Halls

'
6. The Halls

The elegantly dancing ghost of an aristocrat.
HP: 25
MP: 10
Exp: 22
Atk: 20
Def: 1

Rare Drop: Tea
Soul: Fortune of Light

Chapel, Dance Hall

The spirits of nobles that dance with great elegance.
Strong: Holy
Weak: Bashing, Piercing, Slashing, Dark
HP: 18
MP: 50
Exp: 53
Atk: 24
Timestop: Affected

Common Drop: Tea (8%)
Soul: LCK Boost (12%)

The Dark Chapel, Demon Guest House

A monster endowed with the soul of a noble. Moves with cunning grace, closing swiftly upon any foe.
Strong: Light
Weak: Dark
Level: 12
HP: 212
Exp: 21

Common Drop: Knight's Vein
Steal: Holy Man's Vein

Garibaldi Temple

The revived corpse of a master fencer baron. His sword moves so quickly it seems to have 100 blades.
Strong: Light
Weak: Dark
Level: 12
HP: 214
Exp: 22

Common Drop: Knight's Vein
Rare Drop: Wine
Steal: Holy Man's Vein

Garibaldi Temple

A monster endowed with the soul of a noble. Moves with cunning grace, closing swiftly upon any foe.
Strong: Light
Weak: Dark
Level: 30
HP: 437
Exp: 140

Common Drop: Knight's Vein
Steal: Holy Man's Vein

Cordova Town, Eneomaos Machine Tower, Tower of Eternity

The revived corpse of a master fencer baron. His sword moves so quickly it seems to have 100 blades.
Strong: Light
Weak: Dark
Level: 31
HP: 454
Exp: 156

Common Drop: Knight's Vein
Rare Drop: Wine
Steal: Holy Man's Vein

Garibaldi Temple (Crazy Mode only), Cordova Town, Eneomaos Machine Tower, Tower of Eternity

The body of a dead duke, returned as an undead corpse. Retains both nobility and his hat.Abil: Uses a combination of the Dead Baron and Dead Fencer's attacks.

Strong: Ice, Light
Weak: Dark
HP: 1461
Exp: 2007

Common Drop: Light Ring
Steal: $500

Tower of Evermore, Cordova Town (rare), Eneomaos Machine Tower (rare)

The spirits of nobles; they dance endlessly in aristocratic abandon.
Strong: Strike, Whip, Slash, Dark
Weak: Holy
HP: 55
Exp: 125
Skill Pt: 6

Drop: Ballroom Masque, Tea

13th Street

Item Data
Gallery