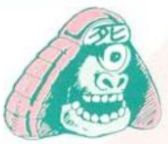 The Decapiclops (独眼独頭(どくがんどくず), Dokugandokuzu?, lit. "One Eye One Head") is the decapitated cyclops head boss who rules over the Demon Face Island (鬼顔島(きがんとう)Kigan Tō) from Getsu Fūma Den that appeared in Chapter 11's crossover stage, "The Legend of Fuma", in Castlevania: Harmony of Despair. It is one of three sub-bosses that must be destroyed before reaching the final boss, Ryukotsuki. It becomes more powerful after either of the other two sub-bosses Oxocutioner and Chimyriad are destroyed. It can also be summoned by Ryukotsuki during the final boss fight.
The Decapiclops also appeared as an enemy in the Konami cross-over game Konami Wai Wai World and appeared in the animation of a song in pop'n music 18 Sengoku Retsuden.
Other media
Enemy Data
Enemy Data: Decapiclops
Image

Name

- Game
Description
Statistics
Items
Location
An accursed skull with only one eye
Soul: Decapiclops (3.5%)

Chapter 11

Trivia
The Kanji on his helmet reads shi (死), meaning "death/dead/die".
Community content is available under
CC-BY-SA
unless otherwise noted.