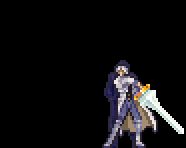 The Durandal is a sword of giants that was tempered by fairies.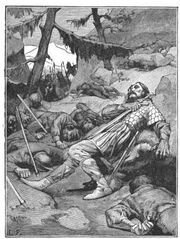 Durendal, also spelled Durandal, is the sword of Roland, legendary paladin of Charlemagne in French epic literature. It is also said to have belonged to young Charlemagne at one point, and, passing through Saracen hands, came to be owned by Roland.
The sword has been given various provenances. Several of the works of the Matter of France agree that it was forged by Wayland the Smith, who is commonly cited as a maker of weapons in chivalric romances.
According to La Chanson de Roland (The Song of Roland), the sword was brought by an angel to Charlemagne who was at the vale of Moriane, and Charles then gave it to Roland. In that poem, the sword is said to contain within its golden hilt a tooth of Saint Peter, blood of Basil of Caesarea, hair of Saint Denis, and a piece of the raiment of Mary, mother of Jesus, and to be the sharpest sword in all existence.
At the Battle of Roncevaux Pass, Roland took the rearguard to hold off the Saracen army troops long enough for Charlemagne's army to retreat into France. Roland slew a vast number of enemies wielding Durendal. With the sword, Roland even succeeded in slicing the right arm of the Saracen king Marsile, and decapitated the king's son, Jursaleu, sending the one-hundred-thousand-strong army to flight.
Roland later attempted to destroy the sword by hitting it against blocks of marble, to prevent it from being captured by the attacking Saracens. But Durendal proved indestructible. After being mortally wounded, Roland hid it beneath his body as he lay dying along with the oliphant, the horn used to alert Charlemagne before succumbing to his injury.
Item Data
Edit
Item Data: Durandal
Image

Name

- Game
Description
Type / Users
Attributes / Consume
Statistics / Sell
Found
Notes
Sword forged by the hands of giants.
Weapon
Soma 
Attrib: Sword

ATK +58
Sell: $6,000 
Rare Drop: Giant Skeleton

A sword of giants that was tempered by fairies
Great Sword
Soma 
Attrib: Slash

ATK +61
Sell: $9,500 
Find: The Pinnacle, Yoko's shop
Create: Great Sword + Valkyrie Soul

Effect: Overhead Dash
Evolve: + Lilith Soul >> Dainslef

Sword of giants that was tempered by fairies.
Greatsword
Soma 
#hands: 2

ATK +35, INT +5, HP +3
Sell: $7,000 
Rarity: ***

Effect: Special - Quick hit (15 MP)

Animations
Edit
Community content is available under
CC-BY-SA
unless otherwise noted.