Durga is an enemy in Castlevania: Aria of Sorrow. She is a monster that feasts on the flesh of her victims.
Origins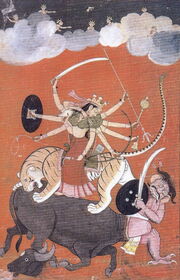 Durga is a principal and popular form of Hindu goddess. She is the warrior goddess, whose mythology centers around combating evils and demonic forces that threaten peace, prosperity, and dharma of the good. She is the fierce form of the protective mother goddess, willing to unleash her anger against wrong, violence for liberation, and destruction to empower creation.
Durga is depicted in the Hindu pantheon as a goddess riding a lion or tiger, with many arms each carrying a weapon, often defeating Mahishasura (buffalo demon).
She appears in Indian texts as the wife of god Shiva, as another form of Parvati or mother goddess.
Description
A female monster of Hinduistic origins. Durga advances forward, only stopping to rapidly stab with the swords she wields in each of her four hands.
Gaining dominance over her soul grants the Penetrator ability, which allows Soma to throw a large blade straightforward that can pierce through several enemies, making it a useful and versatile ability for the earlier areas of the game.
A stronger color-swap of her, called Curly, appears later in the game.
Enemy Data
| No. | Name | JPN | HP | MP | EXP |
| --- | --- | --- | --- | --- | --- |
| 18 | Durga | | 34 | 80 | 15 |
| | |
| --- | --- |
| Description | "A monster that feasts on the flesh of its victims." |
Item Data
Item Data: Durga
Image

Name

- Game
Description
Type / Users
Attributes / Consume
Statistics / Sell
Found
Notes
Clothing worn when practicing a sport or martial arts.
Armor
Soma 
DEF +11, CON +2

(...)


Sell: $300 
Common Drop: Durga

Decaffeinated coffee.
Food
Soma 
HP +200
Sell: $115 
Rare Drop: Durga

Throws katanas.
Bullet Soul
Soma 
Attrib: Sword
Consume: 20 MP 
90 AP

Rarity: 40
Drop: Durga

Gallery
See also
Community content is available under
CC-BY-SA
unless otherwise noted.