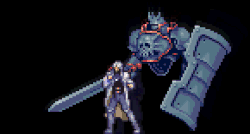 The Great Armor Familiar and Guardian Shadow Knight are Guardian Souls in Castlevania: Aria of Sorrow and Castlevania: Dawn of Sorrow. It summons respectively a Shadow Knight and a Great Armor as a familiar. It can be obtained by gaining dominance over the same enemies' souls.
Characteristics
Whenever Soma attacks, the armor on his back will stab a split second later with his blade, covering the area below Soma.
In Aria of Sorrow, this attack only deals Sword damage; however, it doesn't have the Darkness attribute as one would expect in regard to the enemy it is obtained.
In Dawn of Sorrow, while the familiar's shield does not cover Soma from projectiles in any way, the sword is able to destroy projectiles once it starts to actively deal damage. This is also one of the few souls than can benefit from Backstab with great success; as it attacks almost as fast as Soma, it will duplicate its damage. Axe-type weapons attack so slowly than once Soma's animation ends, the Great Armor Familiar would have attacked twice.
Item Data
Animations
See also
Community content is available under
CC-BY-SA
unless otherwise noted.