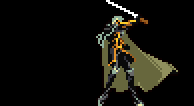 The Harper is a sword in Castlevania: Symphony of the Night. It is based on the Greek sword, harpe, which legends say was used by Perseus to slay Medusa.
The harpē was a type of sword with a sickle protrusion along one edge near the tip of the blade. It is most notably identified as the weapon used by Cronus to castrate his father, Uranus. The harpe scythe or sickle was either a flint or adamantine (diamond) blade, and was provided to a then-unborn Cronus by his mother, Gaia.
Perseus is also regularly depicted in statues and sculptures armed with a harpe sword in his quest to slay Medusa and recover her head. He was provided with such a sword by his father, Zeus.
Game specific information
Edit
This sword is slightly more powerful than Luminus and slightly less than Gram, and has no special abilities. It is the strongest sword that can be purchased from the Master Librarian at the Long Library. The additional $2,000 it would cost to buy this sword may not be worth the extra +3 ATK gained over one of the "-brand" swords (Firebrand, Icebrand or Thunderbrand) when you consider that it does not have an elemental burst attack like these swords do. In some situations, though, elemental swords are a liability. It is the strongest sword that can be obtained without venturing into the Reverse Castle and is available as soon as you can scrape up $12,000.
Item Data
Edit
Item Data: Harper
Image

Name

- Game
Description
Type / Users
Attributes / Consume
Statistics / Sell
Found
Notes
The sword named Harper
Sword
Alucard 
Attrib: Cut

ATT +28

Buy: $12,000 (later) 
Weapon legends say was used to killed Medusa.
Sword
Alucard 
#hands: 1

ATK +18
Sell: $2,300 
Rarity: **
Find: Chapter 6, 2 (Hard)

Miscellaneous
Edit
This item article may have been created with information obtained from other sources. Please see the Inventory pages for each of the games that this item has appeared in for a list of potential sources.
Community content is available under
CC-BY-SA
unless otherwise noted.