See also Harpy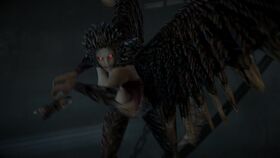 Harpies are enemies that appear in Mirror of Fate. They return in Lords of Shadow 2, but because of their new ecology, living in open caves in the earth instead of roosting above ground, they are known as Harpies of the Depths.
The Harpies appeared soon after Dracula became the new lord of Bernhard Castle. It's possible that they originated from deep within the mountains of Wallachia.
Background
Edit
As lethal as a bird of prey and as elegant as a woman, the harpies have become an organized tribe of warriors that nest beneath the fortress. In the firm belief that the flesh of their prey will give them vigor and eternal life, they have become fanatical killers, organizing expeditions inside the castle to hunt.
Many evil beings have roamed the castle since Bernhard's demonic pact was formulated. Dracula enslaved most of them when he arrived, adopting only the few that were powerful or wild enough to deserve their freedom. That was the case of the harpies, ferocious beasts whose appearance has been deformed terribly by years of seclusion underground, far from the mountains they came from. In their new habitat, they protect the rooms of the three sisters while they await the arrival of new sacrifices with which to soothe their appetite for hunting.
Enemy Data
Edit
| Name | HP | EXP | Difficulty | Drop |
| --- | --- | --- | --- | --- |
| Harpy | 75 | 15 | 2/5 | 10 Magic |
| Name | HP | EXP | Difficulty | Drop |
| --- | --- | --- | --- | --- |
| Harpy Leader | 95 | 35 | 2/5 | 15 Magic |
Like the other characters and monsters with Greek origins, the harpies have a European influence in their design in the Lords of Shadow series.
The harpies' belief that feeding on flesh will give them eternal life mirrors the reason why vampires hunt for blood.
Mirror of Fate's harpies have a Celtic design[citation needed].
Harpies of the Depths are especially vulnerable to Void Projections, freezing solid and falling helpless to the ground.
The fact that they are armed could be a reference to Castlevania: Bloodlines, where they were armed for the first time in the series.