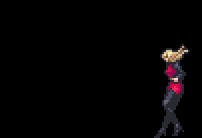 Holy Flame is a particularly fast flame spell that can be performed by members of the Belnades Clan. It first appeared in Castlevania III: Dracula's Curse (called simply Flames) as one of Sypha Belnades' magic spells. A quick, long and damaging burst of flame is cast in front of her.
Yoko Belnades is able to perform Holy Flames in Dawn of Sorrow and Harmony of Despair. It has both the Fire and Holy attributes.
Using a glitch, Soma Cruz can use Holy Flame as a Bullet Soul in Castlevania: Dawn of Sorrow. However, because Soma isn't supposed to use it, it has no name or description in the Bullet Souls list.
Item Data
Item Data: Holy Flame
Image

Name

- Game
Description
Type / Users
Attributes / Consume
Statistics / Sell
Found
Notes
The flames are very powerful as they annihilate everything in its path.
Warakiya War Items
Sypha Belnades 
'
Subweapon
Yoko Belnades 
Attrib: Fire
Consume: 4 MP 
Find: Starts with

Effect: Summon a flame burning enemies. Only available in Julius Mode.

Blast enemies with fire.
Spell
Yoko 
Attrib: Fire, Holy
Consume:

8

MP 
ATK +

10



Rarity: ***
First Obtained: (start with)

Gallery
Artwork
Animations
Community content is available under
CC-BY-SA
unless otherwise noted.