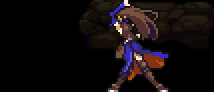 Lapiste (from the Latin lapis, "stone") is Shanoa's stone fist glyph. It summons large stone fists which punch forward in front of her.
In Castlevania: Order of Ecclesia, a glyph union can be performed with two Lapiste glyphs equipped. It causes massive fists to appear from both edges of the screen, which will smash against each other and any enemies caught in between. These fists also smash together in Shanoa's Union Rapisto (translated differently) attack in Judgment. They can be summoned by attacking while guarding and can crush an opponent's guard.
When used in a glyph union with a normal weapon glyph, Shanoa will cast Saturnus, an attack where she'll swing a giant stone hammer over her head, which crumbles apart after hitting the ground.
In Harmony of Despair, it's a random item obtained from bosses' chests, starting from Menace and above. It is Shanoa's strongest weapon and it's recommended to use it (especially if there are two) because, not only is it stronger, it also has a longer range than Confodere. Either continue using it or replace it with two Pneumas.
Item Data
Edit
Item Data: Lapiste
Image

Name

- Game
Description
Type / Users
Attributes / Consume
Statistics / Sell
Found
Notes
Pulverize enemies with giant fists of stone.
Glyph
Shanoa 
Attrib: Strike
Consume: 20 MP 
ATK +17

Find: Underground Labyrinth (Dracula's Castle)

'
Glyph Union
Shanoa 
Attrib: Strike
Consume: 20 Hearts 
ATK = 48

Effect: Giant stone fists smash against each other from the left and right.
Notes: Lapis is Latin for "Stone".

'
Glyph Union
Shanoa 
Attrib: Strike
Consume: 15 Hearts 
ATK = 55

Effect: Giant overhead rock hammer.
Notes: Latin for "Saturn".

Pulverize enemies with giant fists of stone.
Weapon Glyph
Shanoa 
ATK +6
Sell: (cannot be sold) 
Rarity: **
Drop: Chapter 3, 4, 5, 6, 7 boss (Normal). Chapter 3, 5 boss (Hard).

Animations
Edit
Community content is available under
CC-BY-SA
unless otherwise noted.