Dracula XEdit
Younger sister of Annet. Was kidnapped along with Annet, and is imprisoned somewhere within Dracula's castle.
Symphony of the NightEdit
As Richter's sister-in-law, Maria is not a Belmont by blood, but she has the fiery determination of a vampire hunter coursing through her veins. She aided Richter five years ago in the defeat of Dracula, and has vowed to find him now that he has vanished. Shortly after beginning her search, however, the ancient Castlevania returned to the earthly plane. Fearlessly, she entered the castle alone.
Dracula X ChroniclesEdit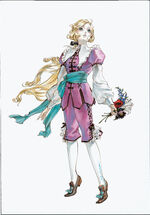 A girl with blood ties to the Belmont clan. After being freed from imprisonment in Stage 2, she joins Richter as a playable ally. Perhaps due to her youth, 12-year old Maria is candid and unaffected, and hates to lose.
Maria was the daughter of local nobles until Dracula killed her parents abducted her. She is a distant relative of the Belmonts. She is naive and hates to lose. She has the power to control four holy beasts which were awakened during an incident when she was 12 years old. She has since been adopted by the Belmonts.
Harmony of DespairEdit
A girl who gained unexpected power after being subjected to magical experiments, Maria commands the Four Sacred Beasts of Chinese lore.