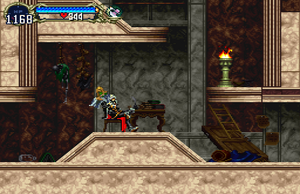 Nocturne is a song composed by Michiru Yamane for Castlevania: Symphony of the Night. It can be heard by finding the Fairy Card and activating its familiar (voiced by Hekiru Shiina in the Japanese version and by Wendee Lee in the North American The Dracula X Chronicles version).
Appearances
Lyrics
女神は永遠の 幸せの中で

Hear,the goddess of happiness cries an endless timeless lullaby
嘆き続けては 歌う夜想曲(ノクターン)

Sings a song of the dream she has, the sadness fills her eyes
愛は 終わる 命もつきる、 それなら

End of love, love is gone. No more dreams to dream about, so life is done
同じ 時に 糸を切って

If it's so, cut the thread, it's time to let it go
神々の渇きが 海の音を消し

Tears, they flow to the thirst of the gods, the ocean's roars drowned out by rain
無垢な狼は 孤独に耐える

Blameless wolf carries on alone, the silence now surrounds him
夢は さめる 夜も明ける、 その前に

Sooner than dreaming ends, morning of the dawn will bring another day
違う 場所に 羅針盤(はり)を向けて

Turn around, (and) you have found a different place to dream
Videos
See also
Community content is available under
CC-BY-SA
unless otherwise noted.