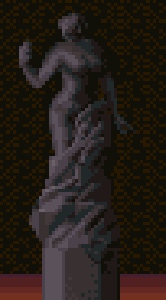 Nudity is a recurring element in the Castlevania series; its inclusion probably being either to emulate the concept as frequently portrayed in classic religious art, to add more realism, or sometimes even for comedic effect.
Nudity was often censored outside Japan in the earlier titles.
Nudity in art
The nude figure is a tradition in Western art and has been used to express ideals of male and female beauty and other human qualities. It was a central preoccupation of Ancient Greek art, and after a semi-dormant period in the Middle Ages, returned to a central position in Western art with the Renaissance. Athletes, dancers and warriors are depicted to express human energy and life, and nudes in various poses may express basic or complex emotions. In one sense, a nude is a work of fine art that has as its primary subject the unclothed human body, forming a subject genre of art, in the same way as landscapes and still life. Unclothed figures often also play a part in other types of art, such as history painting, including allegorical and religious art, portraiture, or the decorative arts.
Game specific information
Community content is available under
CC-BY-SA
unless otherwise noted.