'Castlevania: Lords of Shadow' - Stage 5 (Oblivion Lake)

from FlamingGnats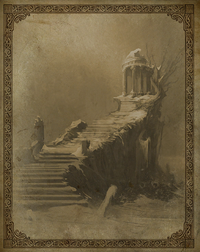 The Oblivion Lake is the fifth and final level of the first chapter of Castlevania: Lords of Shadow. The level's unlockable trial requires that Gabriel finishes the level and defeats the Ice Titan in less than one minute and thirty seconds.
Zobek's Journal
Edit
"The test has shaken him. I see the doubt in his eyes as he heads towards the lake. So Pan is helping him now? That's good. Perhaps it bodes well. I wonder if he knows what awaits him here, in this place where the dead can contact the living. It is cold now. A chill wind blows through his heart; I can see it. Feel it! He will need help if he is to succeed. He must not fail. He will not fail, not now... not yet, not if I have anything to do with it."
Enemy Data
Edit
Enemy Data: Oblivion Lake
Image

Name

- Game
Description
Statistics
Items
Location
Bosses
Buried deep below the surface of an ancient lake, waiting to be found, are the remnants of a once great civilization. (

...

)
Strong: Dagger ×3, Fairy ×3, Holy Water ×3
Weak: Crystal ×2
Size: Giant
Difficulty: High

Oblivion Lake (Chapter 1)

Item Data
Edit
Item Data: Oblivion Lake
Image

Name

- Game
Description
Type / Users
Attributes / Consume
Statistics / Sell
Found
Notes
(Green magical gems that can be inserted into the empty slots of a Life Gem Medallion.)
Gabriel 
Recovers health.

Find: Chapters 1, 2, 3, 4, 5, 6, 7, 8, 9, 10, 11
First Obtained: Hunting Path

Magical gems can be inserted into the empty slots and when all five slots are filled with blue gems, the Light Magic container's capacity is increased. (

...

)
Gabriel 
Find: Oblivion Lake

Related stages
Edit
Community content is available under
CC-BY-SA
unless otherwise noted.