Pachislot Akumajō Dracula Original Soundtrack is the original soundtrack for the game Pachislot Akumajō Dracula. It was released in June 24, 2009. It contains tracks from Castlevania: The Dracula X Chronicles Original Soundtrack and Castlevania: Curse of Darkness Original Soundtrack.
The music was composed by Takeshi Kuramochi, Michiru Yamane, Masanori Akita, Yuichi Tsuchiya, Akihiro Honda (one of Konami's Metal Gear Solid composers), and Yasuhiro Ichihashi (Order of Ecclesia Soundtrack composer/helper).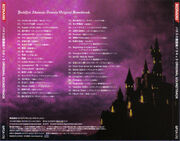 Track list
Edit
Trezier de spirit ~Big Bonus~
Baljhet Mountains ~Regular Bonus~
Impact of the Dark ~Isaac's Stage Production~
Mysterious Advice ~Saint-Germain's Stage Production~
Parlante's Flowers ~Angela's Stage Production~
The Apocalypse ~Zead's Stage Production~
Door of Destiny ~Stage Door~
Spirits of the Dead ~Skeletons' Stage Production~
Chance Meeting ~Painting Stage Production~
Lamp ~Candlestick Stage Production~
Holiness ~Crucifix Appearance~
Captivating Beauty ~Sexy Shot Stage Production~
Grazia Dance ~Sexy Dance Stage Production~
Zutraulich Strike ~Knife Stage Production~
Atmosphere ~Magical Formation Stage Production~
Keys to Victory ~Map Stage Production~
Candle Rush ~Candle Rush Stage Production~
Dark Suggestions ~Opening Jingle~
Duet of Madness ~Isaac Mission~
Phase Cluster ~Trap Mission~
Time of Dusk ~Success Jingle~
Legendary Belmondo ~Skeleton Elimination Mission~
Followers of Darkness -The First- ~Succubus Battle~
Followers of Darkness -The Third- ~Medusa Battle~
Dark Holy Man ~Death Battle~
Showtime! ~Comical Skeleton Stage~
Warning of Sweeping Conquest ~Bonus Decision Jingle~
Estatico ~Victory Jingle~
Bravura of Daybreak ~Dracula Battle Start~
Divine Bloodlines Ver. 511 ~Dracula Battle Spiral Staircase Stage~
Beginning (Crystal ver.) ~Dracula Battle Spiral Staircase Stage~
Vampire Killer ~Dracula Battle Spiral Staircase Stage~
Chi no Namida -Bloody Tears- ~Dracula Battle Spiral Staircase Stage~
Toccata in Blood Soaked Darkness ~Dracula Battle 1~
Tues Deus meus (in manibus tuis) ~Dracula Battle 2~
Battle Failed ~Dracula Battle End~
Life Timer ~Countdown Mission~
Complete ~Countdown Mission Success~
Prologue ~Command Input Success~
Beginning ~Dracula Battle Spiral Staircase Stage~
Vampire Killer ~Dracula Battle Spiral Staircase Stage~
Bloody Tears ~Dracula Battle Spiral Staircase Stage~
Player Out ~Defeat Jingle~
Additional information
Edit
Composers
Edit
Takeshi Kuramochi: Tracks 01, 03~21, 26~30, 36~38.
Michiru Yamane: Tracks 02, 22~25, 34 and 43.
Masanori Akita: Track 31
Yuichi Tsuchiya: Track 32
Akihiro Honda: Track 33
Yasuhiro Ichihashi: Track 35
Tracks origin
Edit
Tracks 2, 22~25 and 34 are from Curse of Darkness' Soundtrack.
Tracks 31 and 35 are from Dracula X Chronicles' Soundtrack.
Related products
Edit