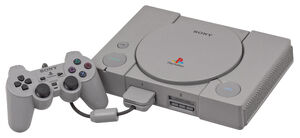 The PlayStation (officially abbreviated to PS, and commonly known as the PS1 or its codename, PSX) is a video game console from the 32/64-bit era, first produced by Sony Computer Entertainment in the mid-1990s. The original PlayStation was the first of the PlayStation series of console and handheld game devices, which has included successor machines like the PS one (a smaller version of the original), PocketStation, PlayStation 2, PlayStation Portable, PSX (Japan only), the PlayStation 3 and PlayStation 4. The original PlayStation's competitors included the Atari Jaguar, Sega 32X, Sega Saturn, Nintendo 64 and Sega Dreamcast.
By March 2005, the PlayStation/PS one had shipped a total of 102.49 million units, becoming the first home console to ever reach the 100 million mark. In 2001, it was noted in a brochure that one in three houses in the US owned a PlayStation.
Castlevania games available on the system
Related games
Community content is available under
CC-BY-SA
unless otherwise noted.