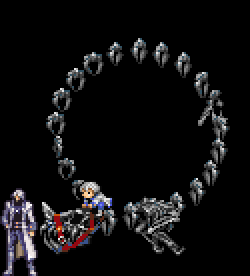 The Quetzalcoatl Familiar is a Guardian Soul in Castlevania: Dawn of Sorrow. It allows Soma to summon Quetzalcoatl as a familiar.
Availability
Dropped by Quetzalcoatl.
Characteristics
A mini-Soma riding a Quetzalcoatl is summoned. This familiar bounces around and destroys enemies. Consumes 5 MP/sec.
Item Data
Item Data: Quetzalcoatl Familiar
Image

Name

- Game
Description
Type / Users
Attributes / Consume
Statistics / Sell
Found
Notes
Summon Quetzalcoatl as a familiar.
Guardian Soul
Soma 
Attrib: Slash
Consume: 5 MP/sec 
Rarity: **
Drop: Quetzalcoatl

See also
Community content is available under
CC-BY-SA
unless otherwise noted.