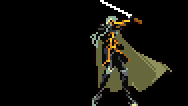 A Saber is a light cavalry sword. It is a low-tier historical sword that can be used by Alucard.
The Saber is the next strongest standard sword after the Cutlass (which is found at the end of the Royal Chapel). It is slightly weaker than the Falchion. Unlike weaker standard swords, you do not automatically receive this sword after reaching to a particular location in the game. Instead, you can buy it once you reach the Master Librarian. It is the by far most affordable sword at the his shop. The $1,500 spent on it shouldn't set you too far back if you want to later buy a Damascus Sword ($4,000) or one of the elemental "Brands" ($10,000). It may be affordable right away and may make clearing the Underground Caverns and Royal Chapel a bit easier. Since it is dropped by enemies encountered before you reach the Master Librarian (Armor Lord and Magic Tome), you might be lucky enough to have it in these areas without spending your precious gold.
Item Data
This item article may have been created with information obtained from other sources. Please see the Inventory pages for each of the games that this item has appeared in for a list of potential sources.
Community content is available under
CC-BY-SA
unless otherwise noted.