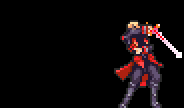 The Stellar Sword is a sword in the Castlevania series. It is the blade of the legendary swordsman Maxim Kischine.
Background
Edit
The Stellar Sword was the blade of the legendary swordsman Maxim Kischine, a friend and rival to Juste Belmont. Although Maxim was a formidable warrior, the sword also possessed an innate ability and great strength; it allowed the user to multiply themself, with the summoned shadows instantaneously rending any foe to pieces.
This weapon was one of several famed weapons later awarded to Jonathan Morris by Eric Lecarde, who utilized the inherent properties in the blade to annihilate enemies.
Game specific information
Edit
This sword is Maxim Kischine's default weapon. It is a sword faster than Juste's Vampire Killer, although not as strong as the whip. Maxim displays several talents with it, the most notable being an attack launching shadows of himself across the screen for massive damage.
This weapon is awarded to Jonathan Morris once after completing the "Almighty" quest given by Wind, asking Jonathan to obtain and master every tool of the vampire hunter's arsenal, has been accomplished. The Stellar Sword is one of the best sword weapons in the game. Even though it lacks in attack power compared to some of the more damaging weaponry in the game, it does possess the Holy element, which given the tendency of enemies being weak to that element, is an attribute often worth sacrificing said attack power for.
Jonathan is also capable of performing a powerful teleporting attack with the sword, as its Critical Art allows him to simultaneously appear in front of all enemies onscreen and deliver a fast, empowered slash.
Item Data
Edit
Item Data: Stellar Sword
Image

Name

- Game
Description
Type / Users
Attributes / Consume
Statistics / Sell
Found
Notes
The blade of the legendary swordsman Maxim Kischine.
Weapon (Sword)
Jonathan 
Attrib: Slash, Holy

ATK +70
Sell: $17,500 
Find: Entrance
Conditions: Complete "Almighty" quest. 
Effect: Attacks all enemies on screen simultaneously.

Animations
Edit
Community content is available under
CC-BY-SA
unless otherwise noted.