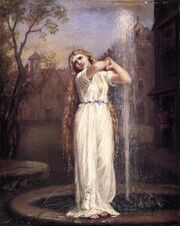 Undine is a water-nymph. The enemy has not appeared in any Castlevania game to date, but its soul is available to Soma Cruz in Castlevania: Aria of Sorrow from a soul-keeper. This grants Soma the ability of Floating, which allows him to walk on water surfaces.
Origins
Undines are a category of elemental beings associated with water. They are almost invariably depicted as being female, and are usually found in forest pools and waterfalls. The group contains many species, including nereides, limnads, naiades and mermaids. Although resembling humans in form, they lack a human soul, so to achieve immortality they must acquire one by marrying a human. Such a union is not without risk for the man, because if he is unfaithful he is fated to die.
Item Data
Item Data: Undine
Image

Name

- Game
Description
Type / Users
Attributes / Consume
Statistics / Sell
Found
Notes
Walk on water surfaces.
Enchanted Soul
Soma 
Find: Inner Quarters

References
Community content is available under
CC-BY-SA
unless otherwise noted.