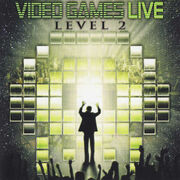 Presentation
Edit
Video Games Live is a famous series of video game music concerts, with symphonic and rock arrangements. It was created by Tommy Tallarico and Jack Wall, two well-known American composers. On October 19, 2010, they released their second CD, containing the same Castlevania medley than on the first one.
Tracklist
Edit
The Legend of Zelda Suite
Civilization IV: Baba Yetu (Duet Version)
God of War: Revenge and Redemption
Chrono Trigger & Chrono Cross Medley
World of Warcraft: Lament of the Highborne
Mario Solo Piano Medley
Super Mario Bros. Medley
Warcraft Montage
Sonic the Hedgehog: Staff Credits
Advent Rising Overture
Megaman Montage
StarCraft II: Wings of Liberty Theme
Final Fantasy Solo Piano Medley
Halo Montage
Castlevania Rock Overture
Final Fantasy VII: One Winged Angel (Rock Edition)
More Information
Edit
The Castlevania medley contains the following tracks: Beginning ~ Wicked Child ~ Vampire Killer ~ Moonlight Nocturne (Symphony of the Night)
Composers: Kinuyo Yamashita (Castlevania), Konami Kukeiha Club (Castlevania III: Dracula's Curse) and Michiru Yamane (Castlevania: Symphony of the Night)
Arranged by Tommy Tallarico
Guitars: Tommy Tallarico and Dweezil Zappa
Keyboards: Martin Leung
Drums: Joe Travers
Bass: Peter Griffin
Recorded at Plaza Calafia Bullring - Mexicali, Mexico
Engineered at EMI's Abbey Road recording studios, London.
During the show, during the intro of the Castlevania song, Tommy Tallarico, who's playing the guitar, says : "Ladies and gentlemen... Boys and girls... Please, rise your hands together... The one, the only... Castlevania!"
External Links
Edit