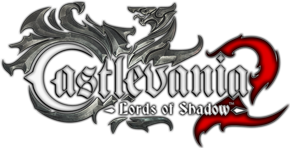 This is a complete walkthrough for Castlevania: Lords of Shadow 2. It is not official, nor endorsed by Konami or MercurySteam—It was written by fans for fans.
This page is a table of contents: click on the links to the sub-articles to find the detailed walkthrough.
Prologue: Castle Siege
Discover the basics of the game, abort the Brotherhood of Light's assault and defeat the Paladin!
Infiltrate the factory, get your Void Sword back and fight Raisa Volkova!
Free the Chupacabras, reclaim your Chaos Claws and exterminate the giant Gorgon!
The Hospital
Find your way through the city and the hospital, go back to Bioquimek Corporation and survive the train ride!
Explore Victory Plaza, defeat Carmilla and obtain the Form of Mist!
Finding the Antidote
Get to the Corporation, find the antidote and destroy Raisa once and for all!
Beat Agreus, return the Toy Maker to normal and obtain two fragments of the Mirror of Fate!
Find your way in the infected city, destroy Abaddon and confront Victor!
Infiltrate the weapon factory, overcome your inner self and execute Nergal Meslamstea and the Riders of The Storm!
Settling Old Scores
Use the Mirror of Fate, find the final Acolyte and get your revenge on Death!
The Finale
Find Satan, destroy the Leviathan and emerge victorious in the duel against the final boss!
The Kleidos Challenges
Finish all the Kleidos challenges in the game, get the 64 emblems and call yourself the true Prince of Darkness!
Hide Dracula's powers, navigate through the new areas and defeat Zobek's Bodyguard with Alucard!
Community content is available under
CC-BY-SA
unless otherwise noted.