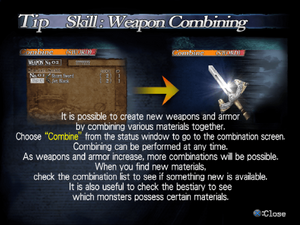 Weapon Combining is a skill in Castlevania: Curse of Darkness. It is unlocked in the Abandoned Castle when Hector finds the first combining material in a chest.
Hector, as a Devil Forgemaster, is also able to create new weapons, armors, and helmets with materials. Using materials, Hector can create basic weapons and may then combine them with other materials or other weapons to create more powerful ones. Materials can be found in chests, dropped from monsters, or stolen from enemies. Some special materials can be simply found on the field. See this page for a list of materials and where to find them.
This system is somewhat similar to Castlevania: Dawn of Sorrow's Weapon Synthesis.
Item Data
Item Data: Weapon Combining
Image

Name

- Game
Description
Type / Users
Attributes / Consume
Statistics / Sell
Found
Notes
Gather up materials and create weapons and armor. Carry out via a command on the status screen.
Skill
Hector 
Find: Abandoned Castle

Effect: Adds the "Combine" option to the status window, where new weapons can be crafted with the materials Hector has collected throughout the game.

Swords
One-Handed Swords
Two-Handed Swords
Piercing Swords
Axes
One-Handed Axes
Two-Handed Axes
Spears
Bamboo Lance tree
Dung tree
Sasumata tree
Knuckles
Special Weapons
Armors
Soft Leather Armor tree
Wild Memory (×1)

DEF +5
#08 Soft Leather Armor
Sun Tears (×1)
Jet Black (×1)

DEF +3, CON +5
#04 Hide Armor

DEF +8
#10 Hard Leather Armor
Ceremonial Tool (×1)

DEF +2, STR+5
#02 Sports Kit
Bat (×1)

DEF +3, CON+5
#05 Sports Jersey
Piko Piko Hammer (×1)
Spirit of Fuji (×1)

DEF +3, LCK+5
#06 Clown Suit

DEF +5, STR +5, CON +5
#09 Black Belt Suit
Midas' Gold (×1)
Shuriken (×1)

DEF +3, LCK +10
#07 Prince's Clothes

DEF +10, STR +10, CON +10
#13 Hanzou's Clothes
Vampire Blood (×1)

DEF +30, STR +10, CON +10, LCK -5
#21 Dracula's Clothes
Lamellar tree
Field Armor tree
Other trees
Helmets
Leather Helm tree
Stone Mask tree
School Cap tree
See also
Community content is available under
CC-BY-SA
unless otherwise noted.