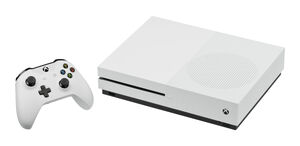 The Xbox One is an eighth-generation home video game console that was developed by Microsoft. Announced in May 2013, it is the successor to Xbox 360 and the third console in the Xbox brand. It was first released in North America, parts of Europe, Australia, and South America in November 2013, and in Japan, China, and other European countries in September 2014. It is the first Xbox game console to be released in China. Microsoft marketed the device as an "all-in-one entertainment system", hence the name 'Xbox One'. The Xbox One mainly competes against Sony's PlayStation 4 and Nintendo's Wii U and Switch.
The console places an increased emphasis on cloud computing, as well as social networking features, and the ability to record and share video clips or screenshots from gameplay, or live-stream directly to streaming services such as Mixer and Twitch. Games can also be played off-console via a local area network on supported Windows 10 devices. The console can play Blu-ray Disc, and overlay live television programming from an existing set-top box or a digital tuner for digital terrestrial television with an enhanced program guide. The console optionally included a redesigned Kinect sensor, marketed as the "Kinect 2.0", providing improved motion tracking and voice recognition.
The Xbox One received mostly positive reviews for its refined controller design, multimedia features, and voice navigation. Its quieter and cooler design was praised for making the console more reliable than its predecessor on-launch, but the console was generally criticized for running games at a technically lower graphical level than the PlayStation 4.
Castlevania games available on the system
Related games
Community content is available under
CC-BY-SA
unless otherwise noted.